Order of Mother Heroine was an honorary title in the Soviet Union awarded to mothers bearing and raising 10 or more children.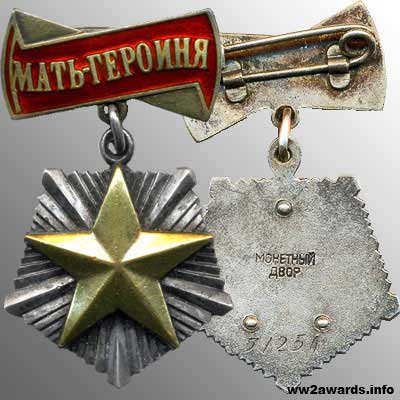 The honorary title «Mother Heroine» was awarded to mothers bearing and raising 10 or more children. The title was accompanied by the bestowal of the Order «Mother Heroine» and a certificate conferred by the Presidium of the Supreme Soviet of the Soviet Union. It was awarded upon the first birthday of the last child, provided that nine other children (natural or adopted) remained alive.
---
Prices for Order of Mother Heroine
To date, prices for the Order of Mother Heroine start from:
1944 Brand stamped ≈10000 pcs. - 380$
1945-91 others ≈450000 pcs. - 260$
The price has been updated on: 19.09.2023 yr.
---
Children who had perished under heroic, military or other respectable circumstances, including occupational diseases, were also counted.
The state`s intent was not only to honor such large families but also to increase financial assistance for pregnant women, mothers of large families, and single mothers, and to promote an increased level of health in mother and child. They were also entitled to a number of privileges in terms of retirement pension, the payment of public utility charges, and the supply of food and other goods.
Order of Mother Heroine in the award system of the USSR
Description Orders of Mother Heroine
The honorary title «Mother Heroine» entitled the recipient to wear the Order Mother Heroine, which was a gold star with silver straight rays between the arms forming an inverted pentagon; it was suspended by a silver-plated ring through the suspension loop to a metallic, red-enameled scroll-shaped mount bearing the gilt relief inscription, «МАТЬ-ГЕРОИНЯ» (MOTHER HEROINE).
The height of the pentagon is 28 mm. The total height of the award, along with the bearing - 46 mm. The Order is made of gold of 950 tests, weight of gold 4.5 g., Silver 17.6 g.
The Order of Mother Heroine was worn on the left side of the chest, and similarly to the star of the hero of the USSR is located over other orders and medals.
Approximately 430000 women were awarded this title during its existence.