The Order of the October Revolution was instituted on October 31, 1967, in time for the 50th anniversary of the October Revolution.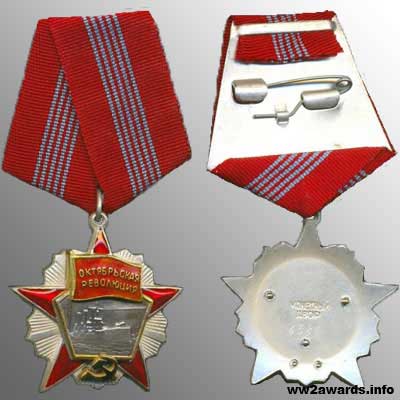 Awarded to Soviet citizens, enterprises, organizations, and other collective groups of workers, military units, and provinces, counties, and cities of the republics. The order is bestowed for active revolutionary activities, large contributions to the strengthening and expansion of the government, outstanding merits in the building of socialism and the building of communism; also for outstanding courage and gallantry demonstrated in combat and meritorious service in strengthening the national defense of the Soviet State. The order may be awarded to foreign nationals.
---
Prices for Order of the October Revolution
To date, prices for the Order of the October Revolution start from:
1967-75 Type 1 4 pins ≈59000 pcs. - 370$
1975-91 Type 2 5 pins ≈51500 pcs. - 400$
The price has been updated on: 19.09.2023 yr.
---
Order of the October Revolution in the award system of the USSR
List of recipients Order of the October Revolution
The award was established on October 31, 1967, and on November 4, the first award ceremony was held. The award with number 1 was awarded to city of Leningrad (now St. Petersburg), number 2 - Moscow, in the same year the decrees on the awarding of No. 3- Russian Federation and No. 4-USSR were signed. In February 1968, the award was given to one of the symbols of the revolution, the order, the award number 5 was given to the cruiser Aurora, as well as 16 Soviet commanders, including Zhukov, Konev, Rokossovsky, Tymoshenko, Vasilevsky.
The award lasted until the collapse of the Soviet Union, during which time it was produced 106462 awards. A rare phenomenon was the re-awarding, in total there were 20 such cases.
Description Orders of the October Revolution
Dimensions from the center to the top of the beam - 23mm.
Materials palladium-0,02g, gold — 0,21g, silver -27,5g. (+/-1,5g.)
Artist Zaitsev V.P.

The insignia of the order consisted of a badge, which was a red star with golden rays between the arms; at the center was a pentagon bearing the image of the cruiser Aurora participating in the October Revolution. Above it was a red flag bearing the words «ОКТЯБРЬСКАЯ РЕВОЛЮЦИЯ» (October Revolution). A Hammer and Sickle emblem was placed at the bottom. The badge was worn on the left chest with a red ribbon bearing five blue stripes at the center. The concave reverse of the award contains the number and the stamp of the mint.
The award is attached to a pentagonal block covered with a 22mm wide silk moire band with the help of a lug and a ring. The tape is red, with five longitudinal strips 1mm wide in the center.